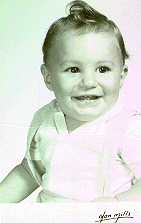 This is me at 10 months!!!
---
Thanks to my cousins Bob and Everette, my research on the Bowie Family has been easy. I also have some extensive research done on my mother's side, the Sullivan Family of Stafford County, VA, thanks to Bill Deyo and Debbie Williams. Bill has worked for many years in this area and now has several publications that would likely be of help to anyone with roots from the Stafford/King George/Fredericksburg area. Bill has also helped me with my Indian roots, and I now belong to the Patawomeck Indian Tribe. I am always looking and searching for more family tree information. Any help you can give would be greatly appreciated.
This page was created 2 June 2000, last updated 08 August 2002.